Many friendship are struck during the holidays at the Park Gallanti Holiday Village. At the playground or at the beach, at the pool or at the Mini Club, the cheerful and kind staff of our qualified animation team is always ready to organize fun activities and games for the joy of your kids!
Our staff members are particularly mindful of our little guests and everyone is happy when, at the end of a fun-filled day, children return to their parents with a smile.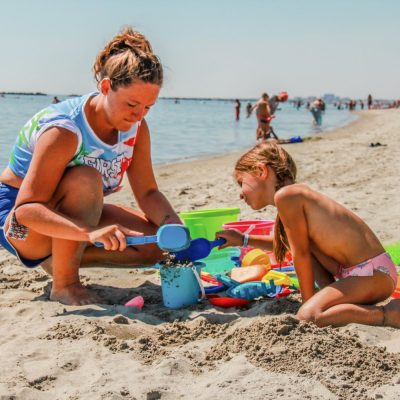 The Park Gallanti Holiday Village Kids Club is an open space where children of all ages meet and play together as one big family. The animation team is always ready to involve our "small" guests in play activities, keeping them entertained in an educational and instructive manner.
Lots of activities are programmed throughout the day, from hands-on workshops to costume making, from musical story-telling to walks on the beach, from small plays arrangements to Italian language courses.
The highlight evening event is the "mini disco" where the kids can dance to the rhythm of the best summer hits!
At the entrance of the village, close to the reception, there is a new space with modern finishes and bright colours, designed entirely for children: the Play Room. This space, equipped with little tables and chairs is a place where children can bee free to use their creativity, have fun with appropriate games and, of course, make friends.
In the Play Room there is an area equipped with tables, chairs, TV and Playstation, where children can compete against each others.
Close to this space, with a beautiful view on the village greenery, there is a lounge area where parents can sit and have a look at the kids or simply read a book, perhaps chosen from our library.
A tourist village with a water park? The Park Gallanti Holiday Village is the best choice for your children. Your little ones will invent a thousand adventures in the colourful and exciting water play areas of the pool dedicated to them.
An irresistible attraction, that entertains not just the little ones but involves the whole family and makes your seaside holiday even more fun.
In the heart of the Lidi di Comacchio, immersed in the greenery of the Park Gallanti Holiday Village, there are several play areas where kids can have fun in total safety!
In our playgrounds children can give free rein to their imagination, playing as princes in a castle, going on the swings or climbing on wooden structures. In the meantime, parents can trust our modern and reliable facilities with certainty.
This makes the Park Gallanti Holiday Village at Lido di Pomposa is the perfect destination for your family holiday by the sea.