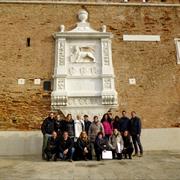 After 6 months of restoration, the bas-relief of the "Leone Marciano" has been returned to its home on the façade of Venice's Arsenal wall.

The work, made possible by S.A.I.T., the company that manages Park Gallanti Village, has returned the symbol of the Arsenal to its former glory.

The restoration took steps to consolidate the bas-relief of the Winged Lion, to clean it, to recreate the missing sections and to fix the parts which were in an advanced state of degradation due to atmospheric conditions and the erosion over time.