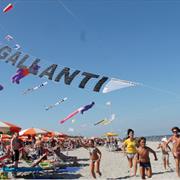 A superlative blend of fun and games awaits you this year at the Park Gallanti Village. Our new entertainment programme involves both our youngest guests and the older ones but still young inside!

In the green area facing the sea, kids will find a spacious playground with new attractions to spend hours of fun together with new friends. Even for our older guests the fun is guaranteed. Sports lovers can continue to stay in shape while on holiday, with our new fitness courses and new bikes in the spinning area.

As early as 20th May, our new animation team is ready to welcome you, eager to introduce the many new features, including games, recreational activities and tournaments designed for the needs of young and old.

What are you waiting for? Book your holiday at the Park Gallanti Village and come to discover fun for the whole family!